Greetings, Friends!
This year marks a new beginning for LVC. We know that the LVC spirit is broad and mighty, and stretches all across the nation. We know alumni and friends believe in the values of LVC long after their service year, or season of support, has passed. The May 20-22 weekend hike-a-thon is our first nationwide gathering that invites everyone to step outside to be in community with one another -- whether that takes the form of a walk around the block with neighbors, a hike up a snow capped mountain with friends, or a careful and assisted stroll around your living room with family. Invite someone to join you in community for your hike. And hopefully, find time in your chat to consider what justice could look like for us all.
Serve on LVC's Board or Committees
LVC seeks nominations for its Board of Directors, and for working committees, as a great way to get more involved. Express your interest by March 18, then apply by April 15. After exploring, APPLY HERE to be considered for the new fiscal year, with term starting in August 2022.
LVC Hike-a-Thon: Sign up Now!
Start pulling your team together for LVC's inaugural "Take a Hike for Social Justice" hike-a-thon on the May 20-22, 2022 weekend.
Create a pledge page. Create your own page and personalize

your e-mail message to invite your family and friends. Donate and invite others to donate on your page.

Invite your team. Invite friends, families, former LVC housemates, faith communities, sports teams, and any other groups of which you belong. P

ersonalizing an e-mail invitation on your pledge page.

Select your group. A "group" is your LVC city, and each group can have an unlimited number of hikers, engaged in individual and team hikes.
Go the distance. It doesn't matter how many miles you hike. Choose your distance.
Location. You and your team choose your hike path.
Can't hike?

No worries. You can still create a participant page to support LVC, choose your group (city), personalize an e-mail message to invite family and friends, donate, and encourage others to donate on your page.
Please sign up by visiting, www.99pledges.com/fund/lutheranvolunteercorps4216/addme.
JOIN HIKE PLANNING

Zoom with Us

Sign up for the "Take a Hike for Social Justice" hike-a-thon the weekend of May 20-22, 2022 at LVC's Hike Page on the 99Pledges platform. Questions? Please e-mail Shae. Join a Local Support Network (LSN) Zoom meeting to get hike planning in motion:
Omaha, NE: Feb. 12, 9:00am (c), RSVP to Scott
Washington, DC: Feb. 22, 7:00-8:30pm (e), ZOOM
Twin Cities, MN – Feb. 23, 6:30-7:30 (c), ZOOM
Baltimore, MD: Feb. 28, 7:00-8:30pm (e), ZOOM
Wilmington, DE – TBD
OMAHA, NE

Hillstrom House 30th Anniversary Lineup!

Did you live in Hillstrom House for your LVC year? Join the anniversary celebration with a lineup of events hosted by Omaha's Lutheran Service Corps (LSC). Contact Scott Glaser for questions and planning.
March 24

,

7pm Central Time – 90 minute online trivia contest hosted by the Trivia Mafia. All alumni and supporters are invited to form a team to participate or join as a "free agent" to get randomly assigned to a team. There is no cost to participate, but RSVPs are necessary to get the hyperlink to the event.
May 4 – LSC/LVC Community Organization of the Game with the Omaha Storm Chasers
May 10-12 – Do Good Days sponsored by SHARE Omaha
May 21 – LVC Hike-a-thon in Omaha, starting at 9:00am in the Fort Street parking lot at Standing Bear Lake Park
June 10-12 – Alumni Reunion Weekend
August 21

/

August 28 TBD – Annual Golf Tournament
VOLUNTEERS

Activism Never Sleeps

LVC Volunteers from Wellstone House in Twin Cities, MN joined the February 5th protest in response to the murder of Amir Locke. Volunteers captured the view from their crowd position in downtown Minneapolis. Pray and take action for change.
BOARD OF DIRECTORS

Meet Kabrina Bass

Kabrina Bass (left) joined as a board member in August 2021. Supporters interested in joining the board can start by joining a committee -- Finance, External Relations, and Board Development and Nominations -- to prepare for board service, using the link at the top of this e-news.
LVC STAFF

Meet Meghan Brown Saavedra

Meghan recently served as Country Coordinator for Young Adults in Global Mission (YAGM) in Mexico, a service program of the ELCA. During her time in Mexico City, Meghan was drawn to the ELCA's theology of mission called accompaniment as a way to be open and present to the beauty, complexity and holiness of whatever place in which we find ourselves. She now finds herself as Program Manager of the East and Admissions for LVC!
ALUMNI

Meet Charmaine Allen '20-21

Charmaine Allen joined Network for Victim Recovery of DC (NVRDC) as an advocate in August of 2020 with Lutheran Volunteer Corps. Prior to joining NVRDC, Charmaine volunteered for several organizations to help people who've been affected by domestic violence. Her educational background supported this position, and includes Criminal Justice at Southwest Tennessee Community College in Memphis, TN. Charmaine believes her experience at LVC taught her how to guide others through spirituality and tough times. She grew an abundance of patience for others as well as herself. From her LVC lessons, she now supports this year's Volunteers as a mentor in Washington, DC -- where she was also hired by her Placement.
"I wanted jump on as a mentor this upcoming LVC year for continuing growth in learning how to care for others who might need guidance."
ALUMNI COUPLE

Meet Deb and Dan Swenson-Klatt '85

Deb and Dan Swenson-Klatt (left, and below) were early trend setters - engaged when they participated in LVC 1984-85, and married in September of '85 shortly after completing their service year. This meant they planned their very "LVC-inspired" wedding from Baltimore and made several cross-country trips home to finalize details. They admit that while their "practice year" living together in intentional community wasn't perhaps the best arrangement in a house of four - it did set them on a path of simplicity and shared mission that continues 36+ years later! Lots of couples meet at LVC and have a lifetime of adventure to follow. What's your story?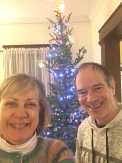 ALUMNI COUPLES Are you an LVC alumni couple? Send in your story, and then-and-now pics to Deirdre.
HIKE TEAM LEADERS Want to lead a hike in your area for the May 20-22 hike-a-thon weekend? Let us know!
TAX DONATION LETTERS Want a copy of your end-of-year donation letter for tax purposes? Make sure we have your email address and you'll get it automatically by February of each year. Contact Theresa in operations.
Lutheran Volunteer Corps
1226 Vermont Avenue NW | Washington, District of Columbia 20005
202-387-3222 | operations@lutheranvolunteercorps.org