SEPTEMBER 2022
Greetings Friends:
NEW VOLUNTEER YEAR!. LVC is pleased to welcome a new corps of Volunteers to Baltimore, DC, and Twin Cities! In-person and virtual, they have already embraced their new cities; house communities as small as two and as large as eight; and program days that bring them all together the first Friday of each month. Meet this year's new Volunteers HERE.
FINANCE. LVC's financial situation has shifted significantly with diminished enrollment and a much smaller corps this year. The Board of Directors has approved a monitored budget, which will be reviewed quarterly with more staffing and other adjustments made as necessary. For FY22, LVC's budget was $892,000, and for FY23 it is $444,000. In response, we've cut expenses, while still maintaining core program elements, increasing local support to Volunteers, and building virtual volunteering opportunities.
SUPPORT. Of course you can help! If you've never been a donor, or your donation has lapsed, please start, or renew. LVC's $10/mo ("ten-mo") campaign invites you to contribute $10 each month all year, and EVERY DONOR COUNTS. You can also mark your calendar now for the May 19-21 Hike-a-thon and begin pulling your team together to make the second year bigger and better.
CAMPAIGN $10/mo
Not a donor yet? We're asking all supporters that believe in LVC, but are not yet donors, to begin donating $10/month (ten-mo), the cost of coffee and a muffin. There's no time like today! (Choose "make this donation recurring" using the button below.)
WELLSTONE FAREWELL PARTY: 9/17/22
Bring your Wellstone story, dancing feet, and join host and alum Stephanie Oyen '92 (below) at Wellstone House, 3245 17th Avenue South, Minneapolis, for a final salute to the exiting house. Alumni, Holy Trinity Members, and the community are invited. Contact Stephanie directly for questions. (CLICK the event invitation at LEFT to print.)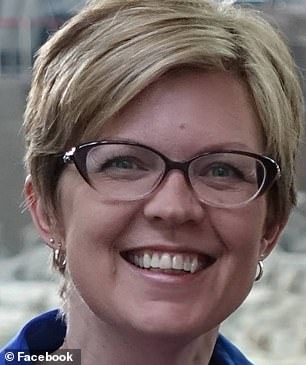 DC HOUSE TO RENT
LVC has a $2900/month, 4BR/2BA 1620sf house in Washington, DC at 1323 Staples St NE 20002, that we will not be able to rent for the last year of our two-year lease. View pictures and details HERE, and contact Deirdre Bagley if interested.
VIRTUAL POSITIONS STILL AVAILABLE
LVC has several virtual positions available NOW for anyone at least 21 seeking a fellowship, monthly learning series, and connection to an LVC community, from the comfort of their own home. See current positions HERE.
PROGRAM DAY SPEAKERS NEEDED
Reach out if your advocacy or work is related to a topic below, and you can present or have a conversation with this year's Volunteers on the topic:
November -- spirituality, intersection with justice
December -- mental health, resilience, intersection with service
January -- women's rights after Roe v. Wade
February -- health disparities and race
March -- law, legal, intersection with racial justice
April -- restorative justice
May -- immigration
June -- LGBTQIA+ "don't say gay" and justice
July -- end of year reflections on service and community
VOLUNTEERS '22-23
LVC Volunteer houses are already focusing on strong community this year, embracing the invitation to spend time together as part of relationship and covenant building.
MEET SIMUNYE HOUSE, BALTIMORE
Simunye house in Baltimore is on a lively street of mixed residential and small businesses. Volunteers had a night on the town to start their service year.
THANK YOU LVC COMMUNITY!
We now have expanded the layers of local support to LVC Volunteers in ALL program cities, thanks to many of you who responded to the call in the July e-newsletter! And, we're already receiving positive feedback. There is no expiration date on your support, so contact program director SHAE AGEE any time over the year to offer a hand and heart.
MENTORS THANK YOU!
LVC alumni have responded wonderfully to the call for mentors for Baltimore, DC, and Twin Cities. Mentors have already begun supporting houses with visits, and even free baseball game tickets to welcome Volunteers to their new cities. You can still support a house as a mentor in these regions.
Meet mentor Linnea Peterson (pic at left). Linnea was a member of Lutheran Volunteer Corps for the 2018-2019 service year. They graduated from Luther College in 2018 and, since completing LVC in 2019, have worked at 1517 Media, the publishing house of the Evangelical Lutheran Church in America. They serve on various committees at Our Saviour's Lutheran Church, which was their host congregation in LVC. In their spare time, they are working toward their dream of becoming a novelist.
WILMINGTON THANK YOU!
Wilmington has already begun signing on to the future. As mentioned in July, LVC paused the Wilmington, DE region in response to low enrollment. If you want to be invited to the October "future exploration" Zoom (date TBD), please sign-up HERE. Always ready, the Local Support Network (picture at left) cleared out Koinonia house, owned by partner Hilltop Lutheran Neighborhood Center, in preparation for the hiatus.
SUPPORT CONGREGATIONS THANK YOU!
All LVC houses have a support congregation! And we're not limiting the number of faith institutions, so reach out if yours can walk with a group of LVC Volunteers in Baltimore, DC, or Twin Cities.
CAMPAIGN $10/mo Please don't leave without donating $10/mo as part of LVC's $10/mo campaign, if you are not already a donor.
HIKE-a-THON 2023 Mark your calendars now for the 2023 Hike-a-Thon, May 19-21.
LVC BOARD AND COMMITTEES You can still submit your candidacy for LVC's Board of Directors, and for working committees, as a great way to get more involved. APPLY HERE.
Lutheran Volunteer Corps
1226 Vermont Avenue NW | Washington, District of Columbia 20005
202-387-3222 | operations@lutheranvolunteercorps.org